Our program promotes the development of listening, language, communication and social skills, in spoken language, Auslan or a combination of both to best meet your child's and your family's needs. For children who are deaf or hard of hearing, it's important to provide tailored opportunities for early learning. We give children quality support early in life to set the foundation for higher learning and critical life skills.
And we make sure they are happy and confident to interact with others, play, and explore the world.
Give your child the best start in life
Every child is unique and so are their development and learning needs. The NextSense early intervention team works closely with you, your family and your child's healthcare professionals to build a program specifically designed for your child.
We're focused on developing happy, confident children who can explore and interact with the world around them. We do this through evidence-based and goal-focused programs that work through each stage of your child's development including listening, language, cognitive, gross and fine motor skills and play development.
This helps your child reach goals in their early years, build independence and participate fully in all aspects of daily life.

We know children learn best when they are having fun, so we help you and your child develop skills through play, integrating learning into your daily routine to ensure you and your family can support your child's development at home.
You and your family are your child's first and best teachers. Our program is designed to empower you and your family to support your child's learning and development every day, at home and in the community.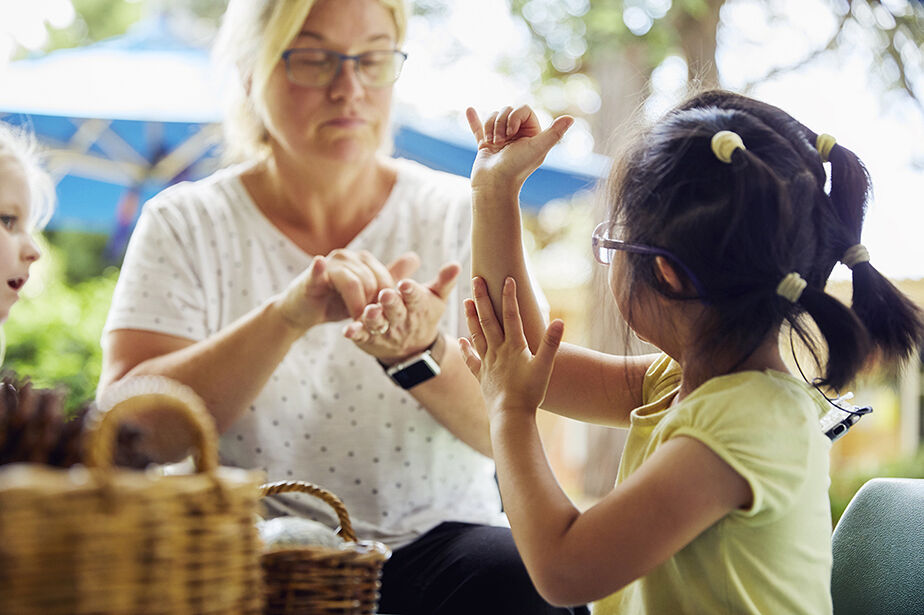 An expert team in your corner
With NextSense, you don't just get one expert, you get a team of professionals who are focused on helping your child to reach their goals.
Led by an expert consultant, known as your key worker, your team of professionals work together to deliver your family's individual care plan.
Your key worker is there to support you, providing intervention and individualised service planning, coordinating your child's services and supports and making sure they have access to a range of experiences and opportunities.

Designed specifically for your child and your family, your individual plan may include:
medical specialists
preschool and childcare
respite workers
playgroup
parent information sessions
Teachers of the Deaf (TOD)
speech pathologists
occupational therapists
physiotherapists
psychologists
audiologists
assistive technology consultants
early childhood teachers
a family support service.