NextSense clinicians and cochlear implant recipients are participating in an Australian-led, world-first gene therapy trial that is re-growing hearing nerves to make cochlear implant technology even more effective. They came together with scientists involved in the research in Sydney recently to celebrate key project milestones.

The team spearheading the research says the research is progressing well and they are over halfway with recruiting cochlear implant recipients for the gene therapy trial.
One of the trial's key investigators, Medical Director of the NextSense Cochlear Implant program, Clinical Professor Catherine Birman (pictured above, centre), said the early results of the trial were promising.
'The trial is very exciting, and there is a way to go yet but we are delighted that this ground-breaking research is happening right here in Australia, and NextSense clients are making it possible.
'All of the trial participants have received cochlear implants and mapping and associated services through NextSense. We are hoping that the trial will enable hearing outcomes to be even better or more reliable for those receiving implants in future. At this stage we are recruiting another seven gene therapy participants and also control participants, so we encourage people to get in touch.'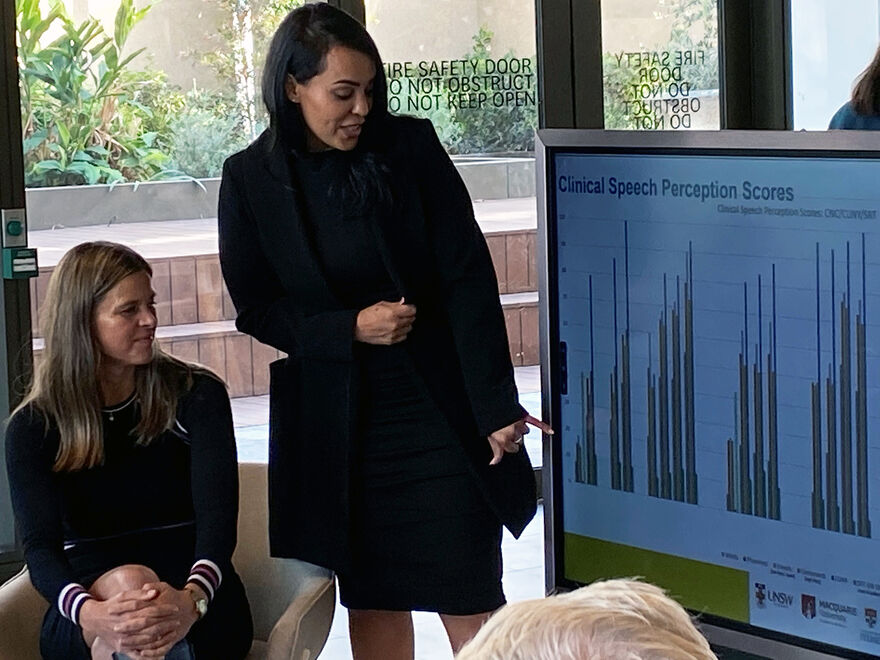 Trial participant Sean Corrigan (pictured top, left), who lost his hearing after fracturing his skull at age 26, says he is excited to be a part of something that can help others.
'The cochlear implant was literally life changing for me,' he says.
'It is really exciting now to be at the forefront of something that is potentially revolutionary.'
Lesley Gallard (pictured top, right), who is also part of the trial, says that even though she knew she was losing her hearing, she was initially very afraid at first to receive cochlear implants.
'But I am so glad I took the step into the unknown because doing this has given me back my music—and that's my passion in life,' she says.
The trial has brought leaders in hearing loss and technology together to share their skills and knowledge to deliver better outcomes for patients. It includes researchers and clinicians from NextSense, Royal Prince Alfred Hospital, Macquarie University, University of NSW, University of Sydney, University of Melbourne and Cochlear.
Using UNSW-developed medical technology for directed gene delivery into the cochlea during cochlear implant surgery, Cochlear engineered a new medical device that delivers DNA coding nerve growth factors to the targeted cells. This is designed to stimulate regrowth of the cochlear nerve fibers towards the implanted device, making the cochlear technology even better, with potentially increased hearing range, crisper hearing and using 'precision medicine' to improve outcomes.
If you are considering a cochlear implant or are already a NextSense cochlear implant client and would like to be involved in this or any of our other research projects, please contact our research team at research@nextsense.org.au

Watch the Nine news coverage of the trial