Reaping all the benefits of hearing again, 54-year-old Stuart's advice to people considering a cochlear implant is to go for it and not hold back.
Having lipread most of his life due to hearing loss, Stuart says getting a cochlear implant is the best thing he's ever done.
He wasn't always convinced a cochlear implant was right for him, despite his Hearing Australia audiologist advising it might be a great solution for his hearing loss. But when the coronavirus pandemic hit and mask-wearing became the norm, Stuart found it was impossible to understand conversations.
Determined to be able to communicate with people, Stuart overcame his concerns about surgery and began investigating cochlear implants.
'The more I looked into it, the more I wanted to have one,' he says.

'I was frustrated at not being able to hear conversations, and I felt isolated.'

— Stuart Boxwell
With the goals of better hearing, being able to talk on the phone, and a better quality of life, Stuart had cochlear implant surgery through NextSense.

'I was a bit nervous about having surgery, but I was only in hospital for one night. It's the best thing I've ever done,' he says.

Post-cochlear implant therapy and support
Cochlear implants stimulate the auditory nerve and send signals to the brain so you can hear. Following surgery, the speech processor is mapped, or tuned, to get the best sound quality.
'It's important to attend all the mapping sessions and do your homework. There's going to be intensive therapy after the surgery. One thing that blew me away was the amount of homework you need to do, every day—using apps on your phone or iPad and so forth, listening to different sounds on the apps,' Stuart says.
Stuart's wife Jacqueline and NextSense Cochlear Implant Rehabilitation Best Practice Lead, Dr Sharon Hurt (PhD) are there for support. Sharon helps him develop listening using his implant, and develop his communication strategies, 'such as what to do if he is talking to someone but can't hear them properly, or in noisy places, does he have the technology to hear?' she says.
Jacqueline attends all sessions with Stuart and provides hugs when they're needed. She's also noticed a big difference in Stuart since he received his cochlear implant.
'He's communicating with people better and learning different sounds he hasn't learned before. Not only that, but he's more relaxed, he's not straining all the time to hear, or having to concentrate so hard,' Jacqueline says.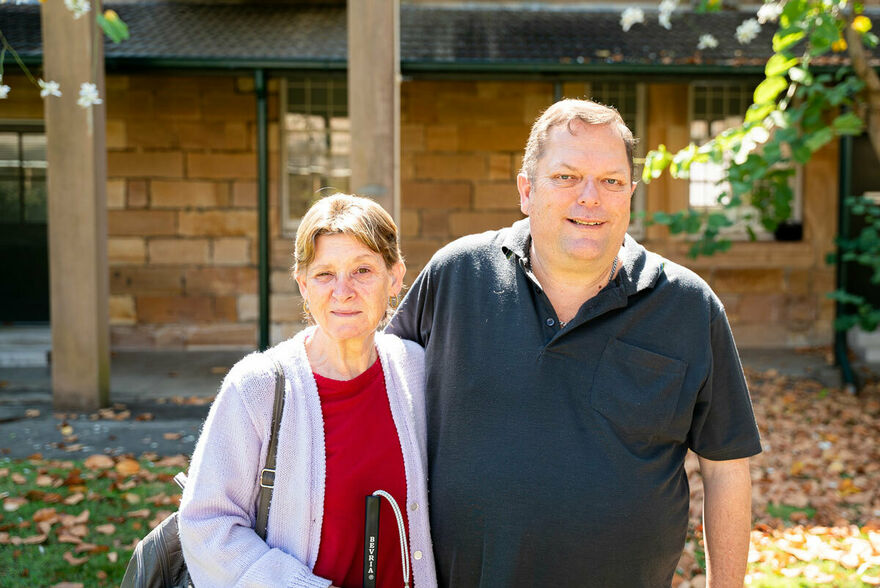 Stuart says the biggest joy is being able to hear everyday sounds. 'I hadn't heard them for a long, long time. So, for me, the real pleasure is in just walking down the street and hearing the kookaburras singing. It took me a while to work out what it was, but once I did, it felt really good. Now I can't stop hearing the birds!'
The first sound Stuart heard after his cochlear implant was the ticking of the clock on the wall, which became louder and louder over time. He's also returned to photography and enjoys taking landscape photos with his DSLR, under the guidance of his brother-in-law, an amateur photographer.
And recently he has been doing phone training, enabling him to call his uncle, who also has two cochlear implants, and compare notes. His brother is blown away by how well Stuart now hears on the phone.
'He thinks it's unbelievable,' Stuart says. 'Before the surgery people would notice that I was really frowning trying to hear what people were saying. Now, I am more relaxed. It's opened up another world for me.'