It is a great honour to be part of so many different people's journeys to better hearing.

— Clinical Professor Catherine Birman
Clinical Professor Catherine Birman is the Medical Director of NextSense Cochlear Implant Services (formerly SCIC Cochlear Implant Program, an RIDBC service). A globally renowned surgeon, Dr Birman has performed more than 1,500 cochlear implant and hearing restorative surgeries for children and adults of all ages—from three months to well over 90 years.

The link between hearing loss and dementia
By the age of 65, one in three people will have hearing loss. Hearing loss in adults requires greater effort to listen and understand speech. For many people, the onset of hearing loss is insidious, and often they think that others mumble or don't speak clearly.
Hearing loss and the impact on your life
Studies show hearing loss can be associated with social withdrawal, isolation, depression and anxiety, and is an independent risk factor for dementia. A Lancet article on preventable causes of dementia, published in 2017, highlighted that hearing loss was the largest of the potentially reversible factors that are responsible for dementia. In fact, hearing loss was a major factor in 9% of dementia. By helping reduce the impact of hearing loss—with hearing aids and cochlear implants—we may be able to have a flow on effect and help reduce dementia and improve quality of life.
The importance of hearing tests for older people
For people over 50 years, having regular hearing tests with an audiologist and managing hearing loss in a timely manner is very important. This could be with hearing aids, and for people with severe or profound sensorineural hearing loss—with cochlear implants.
About NextSense Cochlear Implant Services
Our program has supported over 5,000 people to access a better world of sound, making it Australia's largest and most comprehensive cochlear implant program. At NextSense, you have access to leading surgeons, an expert team of health professionals, and the latest technologies, often with no out-of-pocket costs.
When it comes to cochlear implants, we're world-leaders. That's because we're committed to world's best practice, grounded by research and innovation, and have a team of experts here for you. From your initial hearing assessment, through to the cochlear implantation and ongoing support, we'll be with you every step of the way.
You're never too old for a cochlear implant
Cochlear implants can be a suitable option for newborns through to people aged ninety and older, who have profound hearing loss. A common misconception is that you're 'too old' for a cochlear implant. The fact is that age is no barrier. In fact, we support over 2,000 clients over the age of 65.
As well, did you know that more than 92% of adults with significant hearing loss in Australia who could benefit from a cochlear implant haven't explored the technology?
The impact on Alan's life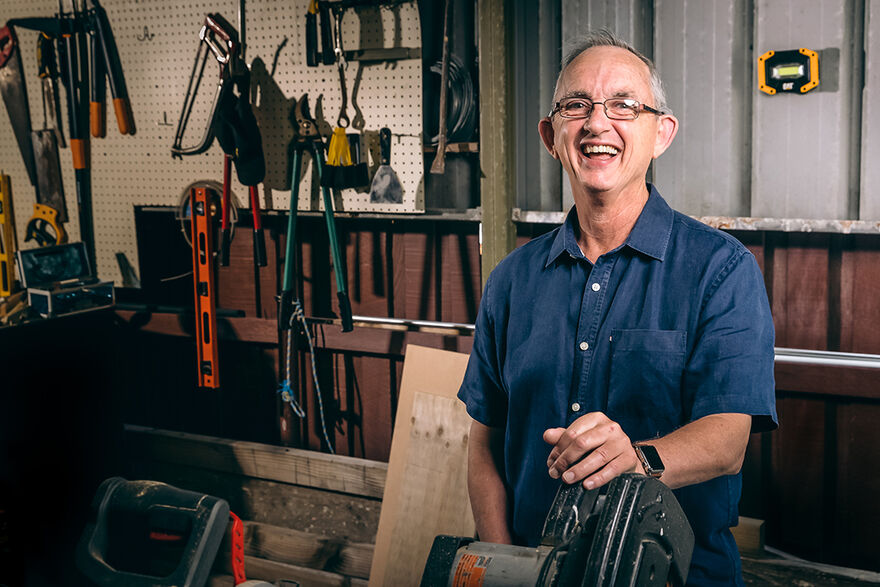 When Alan's hearing loss increased over time, he became distant and as a result withdrew from society and, to some extent, his family. Alan persisted with hearing aids despite them becoming 'physically painful.'
But hearing aids weren't enough. In 2017, he received his first cochlear implant, and a year later received his second—making him a bilateral cochlear implant recipient (both ears).
'It's beyond measure the impact it has had on me.'
Alan hopes by sharing his story he can have a positive impact on people like him who are experiencing hearing loss.
Free information sessions
We regularly facilitate information sessions around Australia. You'll learn more about cochlear implants, including the difference between a hearing aid and a hearing implant system; hear firsthand from cochlear implant recipients; and have your questions answered.

To express an interest for free information session, you can get in touch with our Client Care team.
Contact us