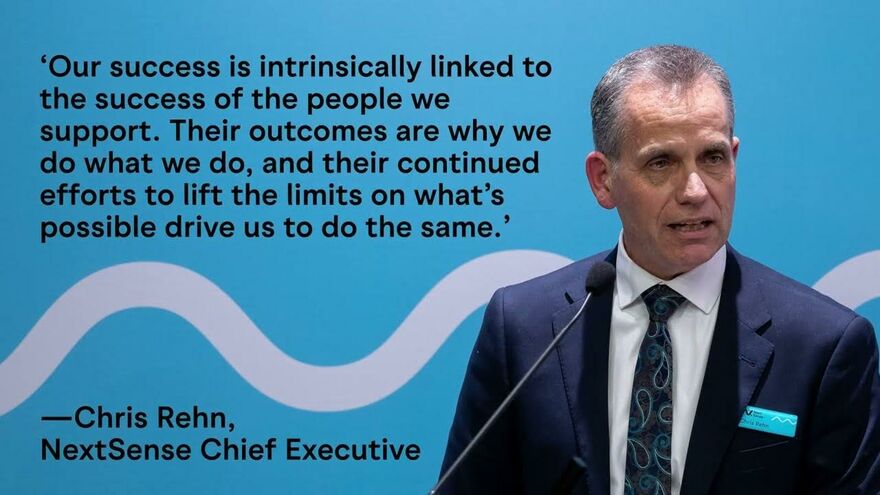 'I'm so incredibly grateful for the opportunities NextSense has given me. They've allowed me to do things that even four years ago I never could have thought I would achieve— thank you so much.'
Dux of his school, Jacob Raffoul spoke after receiving an award for academic excellence at the 161st NextSense Annual General Meeting this week. He gave thanks to all who had supported him with his vision loss, with a special mention to his itinerant teacher Jen Tait, who supported him through high school.

Jacob has low vision, oculocutaneous albinism, and hypermetropic astigmatism. He attended the NextSense vision preschool in 2007 and received support from our Student Support Service—vision throughout high school at Redfield College.

Jacob (pictured first in our image gallery below) was awarded the Dr Frederick Gregory-Roberts Prize and achieved an ATAR of 97.5.

Jacob and fellow award-winner Martin Duong captivated the AGM audience with their hearing and low vision journeys, of which NextSense was a part.

Martin (pictured second to left in our image gallery below) was awarded two prizes at our AGM—the first was the Clearasound Prize awarded to a student who is deaf or hard of hearing, is enrolled in a NextSense service, and has excelled at the HSC. He achieved an outstanding ATAR of 99.95.

The second award Martin received was the Garfield and Norma Barwick Prize in recognition of his outstanding HSC achievement.

Martin has bilateral, mild to severe hearing loss and was supported by NextSense from kindergarten through to Year 12, where he attended Newington College.

The awards presentation followed the official AGM proceedings. It was wonderful to come together, in person and virtually, with our supporters, partners, people and families to look back on a year of strength through adversity, a year of success and innovation.

We could not do what we do without the support of our community which spans business, academia, government, the hearing and vision sectors, clients, families, and generous people who donate money and time.

Here are some photos of the evening.