NextSense partners, supporters, clients and staff came together for the 162nd NextSense Annual General Meeting (AGM) on 30 May, to hear about the work we did in 2022 to write our next chapter.
The meeting heard about how we have evolved and grown, as we reached the midpoint of a three-year journey towards the NextSense we want to become.
Watch our highlights video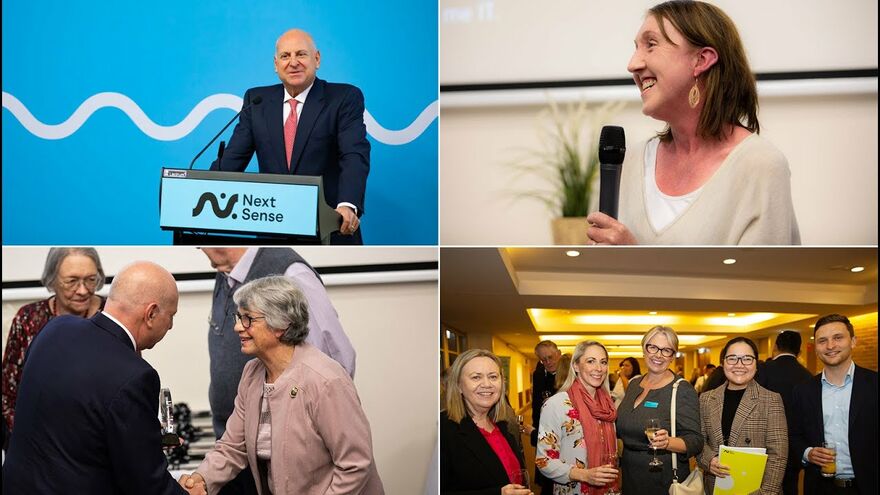 Board President David Dinte described how we are 'taking the incredible strengths of our organisation and its history and using them to build something new'.

He described the impressive progress of our construction project on the Macquarie University campus: our new centre for innovation. He outlined our resilience in managing the ongoing impacts of COVID-19. And he described how we navigated the the Northern Rivers region floods, which saw the destruction of our Lismore centre, and our ability to quickly secure new premises in Alstonville, near Lismore, to re-establish services in that region.
We acknowledged our resilient and creative people, who go above and beyond every day, and we celebrated our incredible donor community, many of whom attended the AGM, and who are an intrinsic part of our success. Our supporters and community believe in us and our clients, share our goals and make the difference between good and great services at NextSense.
We said thank you for the continuing generosity of our supporters, some of whom were recognised by the NextSense Board at our AGM for their long-standing support, in some cases over many decades.
We also launched the 162nd NextSense Annual report, which contains highlights of our work in 2022 and stories about people we support, along with our Financial report, which details full financials for the year.
We heard how the NextSense brand went from strength to strength, as more people became aware of our new name and visual identity, and how we undertook foundational work that paves the way for our move from North Rocks to Macquarie University in 2023. Ideas and plans that had been in place for years turned into bricks and mortar, and we welcomed a $12.5 million Federal budget funding commitment for our centre of innovation.
And we celebrated outstanding achievers such as NSW student Andre Gregory, who received school support services from us from primary to high school and achieved a 99.8 ATAR in the Higher School Certificate.
Below are some photo highlights of the evening.