Axel's parents Julia and Andrea just wanted to know what it all meant and what was next for their beautiful baby boy.
Axel's hearing loss was discovered at his newborn hearing screening test when he was just days old. They immediately received advice to begin early intervention, start speech therapy and access hearing devices for Axel, and by 7 weeks old he was wearing hearing aids.
It wasn't until they were put in touch with a speech pathologist at Next Sense that they received the reassurance they needed.

The support from NextSense was warm, holistic and genuine, making us feel as though everything was going to be okay. We knew we were in good hands from day one as we were constantly reassured that Axel might be taking a slightly different journey but there were so many opportunities and possibilities for him,

— Julia says.
'We understood that spoken language and listening was possible and we understood that Auslan was also how Axel could communicate and connect. It took us quite some time to make the decision to give Axel cochlear implants and go down the hearing and spoken language path.'
'Axel is progressing in his communication skills at a level we weren't expecting! His listening is incredible and he was responding to his name not long after. Now he is babbling, using different sounds and experimenting with his voice which is so exciting to see—he's even saying "bah bye", which is wonderful,' Julia says.
Speech pathologist Cassandra Healy is providing support to Axel and his family.
'Julia and Andrea have an incredible passion and dedication towards learning as much as they can about the cochlea implant process, Axel's hearing and communication journey, and also the Deaf and hard of hearing community. It has been an absolute pleasure to be able to experience this journey with them and to support them with any questions they have along the way,' Cassandra says.
Axel's just like any other boy his age, says Julia, 'vibrant, energetic and cheeky, loves the outdoors and being involved in fun and games'.
It all started with one question—the first of many. Now Axel's reaching his potential, with the wrap-around support of NextSense and our team of experts
Watch Axel's switch on moment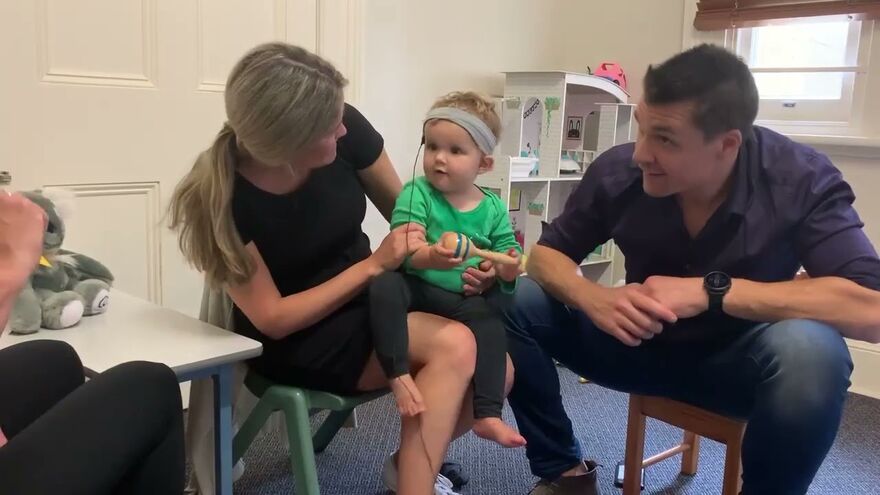 Want to learn more about our Early Intervention—Hearing services?
Learn more here.