Our Leadership Team
Learn more about the leadership team who drive NextSense forward.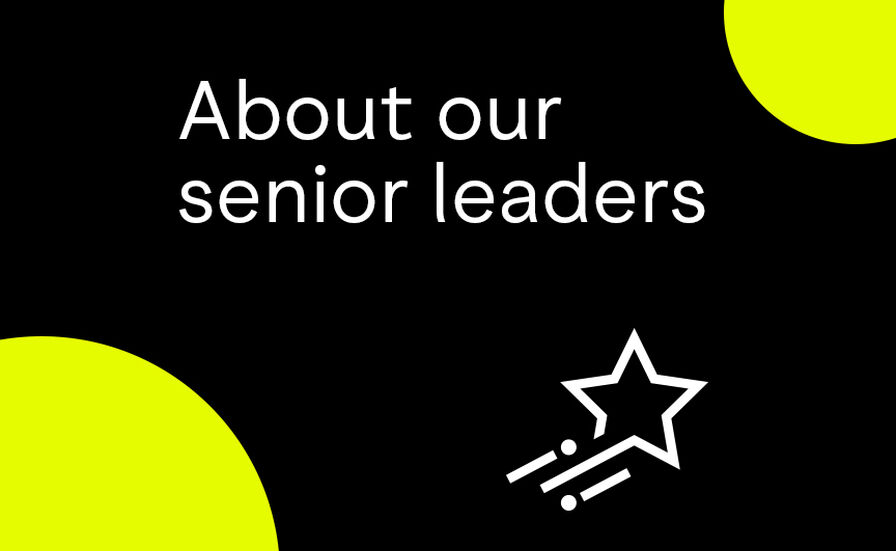 Chris Rehn

JP, BBus, DipAppSc

Chief Executive

Chris has led NextSense since 2010 and has deep expertise in steering a wide-ranging and complex program of work across clinical service delivery, research and education in sensory disability. He has spearheaded the organisation's growth, its merger with seven other businesses and its continued development of Australia's largest and most comprehensive cochlear implant program. He has more than 35 years' experience in the health industry, having worked across public, private and not-for-profit hospital and health management. And he is well recognised for his longstanding leadership and involvement with cochlear implantation in Australia. Chris is a Harvard Club Australia Non Profit Fellow. He has an unwavering commitment to, and passion for, the health, disability, and not-for-profit sector.

Teresa Stones (Executive Assistant)

Shy Bastianpillai

FCPA, FCMA (UK), CGMA

Chief Financial Officer

Shy is an accomplished financial executive, having held a number of senior financial management roles with multinational organisations. She joined RIDBC (now NextSense) in 2016 from BAE Systems, where she spent 10 years in senior finance roles. Shy has extensive experience and a proven track record in financial management and business transformation, and is a people-focused leader, with a passion for coaching others.


Wendy Middleton (Executive Assistant)

Hockman Chang

B Const Mgt, MRE, Dip App Sc, Cert Risk Mgt

Director, Technology, Operations & Property

Hockman has extensive experience and expertise within the project and program management disciplines. Prior to joining RIDBC (now NextSense) in 2013, he held senior management roles in a number of ASX Top 50 multinationals across a range of industries, including property, construction, operations, risk and work health and safety.

Wendy Middleton (Executive Assistant)

Arani Duggan

BDes, MFIA

Arani has a 20-year fundraising career with roles across government, the arts and not for profit sectors. She has successfully developed and implemented strategies that have led to increased income and set the foundations for long term sustainability. She sits on the Fundraising Institute of Australia's Diversity, Equity and Inclusion committee and was the winner of CEO Magazine's Not-for-Profit Executive of the Year in 2020. She joined NextSense in 2022.


Sarah McNeilly (Fundraising Department Administrator)

David Eljiz

BCom, LLB, GDLP

Chief Operating Officer

David Eljiz commenced working with NextSense in July 2022. He is an accomplished executive leader with significant experience in service delivery, change management, organisational strategy and operations management. Prior to joining the organisation, he held senior leadership roles in the education and legal sectors. David has extensive expertise working with major non-profit, commercial and public sector clients across a range of industries including disability, education, health and aged care.

Teresa Stones (Executive Assistant)

Professor Greg Leigh AO

DipTeach, BEd, MSc, PhD, FACE

Director, NextSense Institute

Professor Leigh has built an impressive career specialising in education for people who are deaf or hard of hearing. He is currently Chairman of the Australasian Newborn Hearing Screening Committee. He is a former National President of the Education Commission for the World Congress of the World Federation of the Deaf and is Chair or Co-Chair of the International Steering Committees of both the Asia-Pacific Congress on Deafness (APCD) and the International Congress on Education of the Deaf (ICED).


Celise Morrison (Institute Administration Officer)

Kylie Pearson

B ExSc, DipHR

Director, People & Culture

Kylie is a commercially focused HR professional with extensive technical human resource management expertise and specialist experience in child-safe organisations. Prior to joining RIDBC (now NextSense) in 2020, she held HR roles across multiple industries, including healthcare and children's services, where she had responsibility for large and complex workforces. She has a proven track record in driving change strategies and building progressive people functions to support an organisation's greatest asset—its people.

Nicole Smith

BHSHM, MBus

Director, Marketing and Communications

Nicole Smith is a senior marketing and communications executive with over 20 years' experience, ranging across industries and sectors including not-for-profit, information technology, retail and sports. In her roles she has successfully led major organisational change responses, built brand campaigns and marketing initiatives designed to help organisations grow, driven internal and external communication strategies to improve engagement and change management, and developed organisational strategy. Nicole joined NextSense, formerly RIDBC, in 2015, managing the organisation's strategic and internal stakeholder communication. In her current role as Director, Marketing and Communications she leads the marketing, communications and brand function, and recently spearheaded the organisation's rebrand from RIDBC, and its group of companies, to NextSense.