Our Board
Learn more about the accomplished business, industry and community leaders who make up the NextSense board.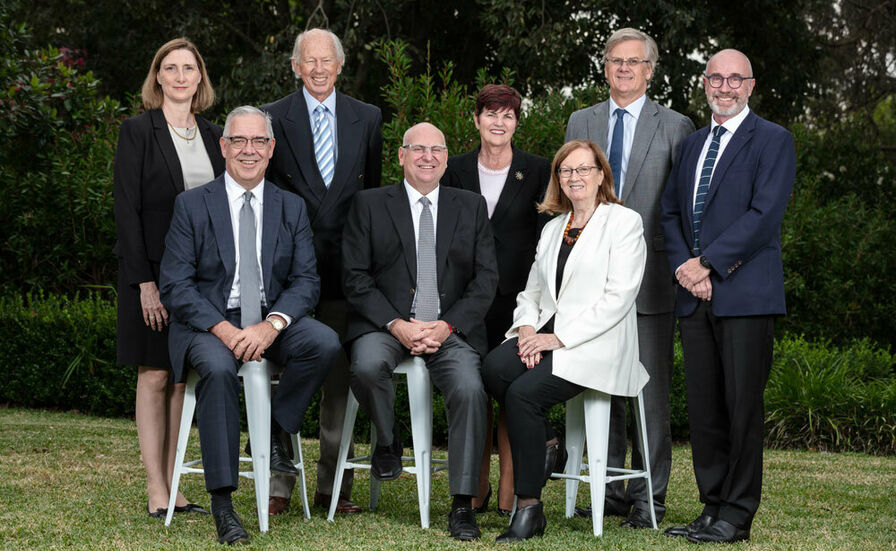 Selecting an option will move you to a different section of the page.
His Excellency General The Honourable David Hurley

AC DSC (Ret'd), Governor-General of Australia
Mr Norman B Rydge

AM, OBE

Vice Patron

Mr Norman B Rydge was appointed Vice Patron of RIDBC (now NextSense) on 24 June, 2009. He was a Director from 1977-2009, President from 1995-2009 and was a Life Governor. Norman sadly passed away on Sunday 16 January 2022. Norman was 93 years old.
Mr David Dinte

BEc, LLB, MAICD

Mr Dinte is a property developer with extensive experience in commercial, retail, industrial and residential development, acquisition and management in both Australia and the United States of America. Mr Dinte is a Director of Souths Cares. He is a member of the International Council of Shopping Centres. Mr Dinte joined the board in 2000, was appointed a Vice President in 2009. In December 2019, Mr Dinte was appointed President and Chairman of the Board. He is also a Life Member of NextSense.
Mrs Barbara Stone

AM, BA, DipEd, MEd, MAICD, FACE, FACEL

Mrs Stone is a former National Chair of the Association of Heads of Independent Schools of Australia (AHISA), past State Chair, AHISA NSW/ACT, former President, Alliance of Girls' Schools of Australasia. Mrs Stone Retired as Principal of MLC School in 2011. Current other board directorships include Association of Independent Schools, NSW; and Newington College, Stanmore. Mrs Stone joined the board in 2002, and was appointed a Vice President in 2012 and is a Life Member.

Mr Peter van Dongen

BComm (Acc), FCA, F Fin, GAICD

Peter van Dongen is Chairman of PwC Australia's Board of Partners and a Director of PwC Asia Pacific Ltd. Previously, he was the National Managing Partner of PwC Australia's assurance practice and a member of PwC Australia's Executive Board. Peter has over 30 years' experience in delivering assurance services to many of Australia's largest ASX-listed companies, predominantly in the financial services sector. Until recently, he was the Independent Auditor of the Australian National Audit Office, having been appointed by the Governor General to a fixed term to 1 January 2019. He joined the board in November 2013 and was appointed a Vice President in 2018.

Mr Matt Pearce

Mr Pearce has an extensive career in media and events. He has worked in newspapers and magazines and, for the last 18 years, events. He has strong mergers and acquisition experience and sits on a number of industry boards. He has been involved in hearing services in Victoria for the last 25 years, previously serving as Chairman and Board Director for Taralye and Taralye Foundation. Mr Pearce joined the board in 2018 and was appointed a Vice President in 2021.
Clinical Professor Catherine Birman OAM

MBBS, PhD, FRACS, GAICD

Director

Clinical Professor Birman is one of the most experienced cochlear implant surgeons in the world, having performed more than 1500 cochlear implant procedures for children and adults from three months to well over 90 years.

View profile

Mr Charles M Cowper

BA, LLB, FAICD

Charles Cowper is a solicitor and former partner of national commercial law firms, Corrs Chambers Westgarth and Gadens Lawyers. He is currently a consultant to global law firm Dentons. He is an acknowledged expert in mergers and acquisitions, corporate law and governance. He has held board positions in a range of for profit and for purpose organisations including in education, on the Council of Shore School and in disability, as a director of Royal Blind Society of New South Wales. He is a Fellow of the Australian Institute of Company Directors. Charles joined the board in May 2017.

Mr Roger Gee

Roger Gee retired from Qantas in 2006 after a 41-year career with the airline. He retired as a 747-400 Senior Check Captain. He has been an active member of the RIDBC (now NextSense) Qantas Pathfinders Auxiliary for more than 30 years. He instigated the Charity Flight, a very successful fundraising event, and piloted the Qantas Children's Jumbo Joy Flight for many years. He joined the board in 2008 and is a Life Member of NextSense.

The Hon Robyn Parker

DipEd, DipTeach, GAICDMs

Robyn Parker has over 30 years of public sector experience. Beginning with roles in child and family services across a number of disadvantaged communities, Robyn spent 14 years as a TAFE teacher of child studies and as a CEO of ageing and disability organisation. She also spent 12 years as an MLC, MP and Cabinet Minister in the NSW Government. Currently, Robyn serves as a non-executive director of several not-for-profit and government boards such as the Taronga Conservation Society, Hume Housing and Hunter Local Land Services. She joined the board in 2019.