Our ambassadors
Learn more about the NextSense Ambassadors who help us build our profile and raise vital funds for our services.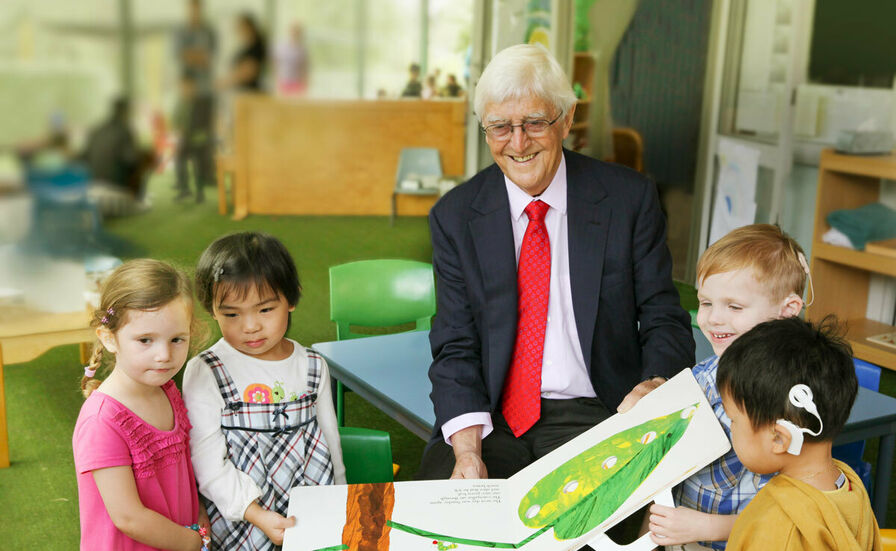 Sir Michael Parkinson

Chat show legend

Sir Michael Parkinson never hesitates to go in and bat for his favourite Australian organisation.

Fans of Michael will be aware of his great affection for Australia and for cricket, but may not realise his generous regard for and interest in NextSense (formerly RIDBC), which he has supported for 30 years.


In 1983, Michael created a mascot for Royal Institute for Deaf and Blind Children (now NextSense) called "Rockie Woofit", an Australian version of his successful UK characters "The Woofits", which featured in his children's books and television series. For almost 20 years, this name represented one of the organisations preschools at North Rocks. The formerly named Rockie Woofit Preschool (now know as NextSense Spoken Language Preschool) holds a very special place in the history of NextSense.

Katie Kelly

Champion Australian Paratriathlete

Katie Kelly has been raising funds for NextSense (formerly RIDBC) for over 20 years.

Katie was born with moderate hearing loss. In her 20s she was diagnosed with Usher Syndrome, a degenerative eye sight and hearing condition.

Katie came to compete as a PT5 athlete after she was formally classified in this division in early 2015 when her eyesight had deteriorated to a legally blind status. From February 2015, Katie gained selection on Triathlon Australia's elite Paratriathlon program. Katie went on to win the Paratriathlon PT5 (Vision Impaired) World Championships in September 2015 and Australia's first ever Gold medal at the 2016 Rio Paralympics where Paratriathlon made its debut. For both races, Katie had Olympic medallist Michelle Jones as her guide.

Paratriathlon is the newest sport to the Paralympics and consists of a 750m swim, 20km bike ride and a 5km run.

Katie has been actively involved in the sports industry both in her career and pro bono work for over 15 years working with premier Australian companies such as the NRL, ANZ Stadium and Tabcorp. She also worked on contract with the NT Government's Sport and Recreation.

Katie has a deep commitment to projects that promote healthier lifestyles, particularly access to sports for children with a disability. She would also like to see more progression on the social development of children with a disability in indigenous communities.

Katie is a Board Member of Deaf Sports Australia and is passionate about the delivery of their programs including Active Deaf Kids program. She is also working to set up the 'Sport Access Foundation', which will primarily serve to remove any barriers for children with a disability to play sport.